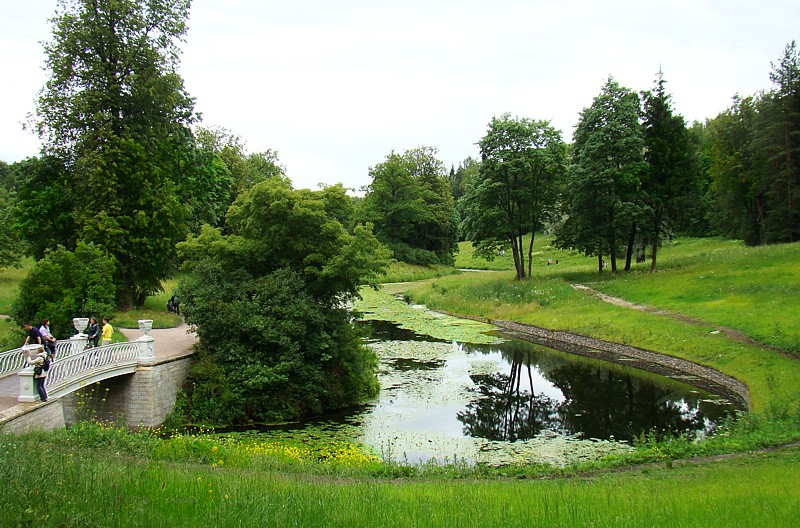 Contrary to popular opinion, landscape garden is not something that all of a sudden was
invented in the 18th century. The truth is that most regular gardens always had adjacent "islands of nature", completely untouched by the hand of landscape designers. It would also be unfair to think that these forests, lakes and what have you received no attention from the owners of regular gardens and parks, because the premises of landscaped areas could very successfully be used for walks, not to mention hunting and other sportsmanship activities. It appears that over time the natural surroundings of regular gardens took over the garden proper and landscape gardens were the immediate aesthetic result of this change.
It is quite interesting that just as the regular gardens of the Middle Ages followed the archetype of the Garden of Paradise, landscape gardens also received a similar theological background. The primordial garden described by Milton in Paradise Lost is very much a landscape garden, nature at its best, so to speak:
Southward through Eden went a River large,
Nor chang'd his course, but through the shaggie hill
Pass'd underneath ingulft, for God had thrown [ 225 ]
That Mountain as his Garden mould high rais'd
Upon the rapid current, which through veins
Of porous Earth with kindly thirst up drawn,
Rose a fresh Fountain, and with many a rill
Waterd the Garden; thence united fell [ 230 ]
Down the steep glade, and met the neather Flood,
Which from his darksom passage now appeers,
And now divided into four main Streams,
Runs divers, wandring many a famous Realme
And Country whereof here needs no account, [ 235 ]
But rather to tell how, if Art could tell,
How from that Saphire Fount the crisped Brooks,
Rowling on Orient Pearl and sands of Gold,
With mazie error under pendant shades
Ran Nectar, visiting each plant, and fed [ 240 ]
Flours worthy of Paradise which not nice Art
In Beds and curious Knots, but Nature boon
Powrd forth profuse on Hill and Dale and Plaine,
Both where the morning Sun first warmly smote
The open field, and where the unpierc't shade [ 245 ]
Imbround the noontide Bowrs: Thus was this place,
A happy rural seat of various view;
Landscape gardens also carried a certain political message. Early on, they were identified with British liberalism, distaste for tyranny and autocracy, and reliance upon home-grown aesthetics, as opposed to foreign influences. It is notable that in the 18th century liberalism was linked to rationalism. This probably explains why "liberal" approach to gardening coincided with Neoclassicism in architecture - classical art was considered the pinnacle of human intellectual history and it had to be followed and replicated because it was rationally understood as best practice.